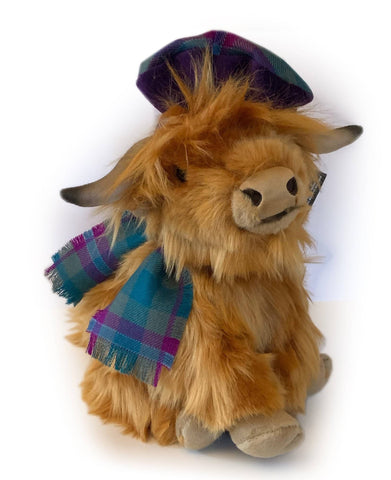 Fletcher, the Highland Coo
DELIVERY ADVICE
ScottishLaird supply this product directly and therefore delivery is usually in the times stated.
PRODUCT DESCRIPTION
Dunans Estates were the vision of Archibald Fletcher - a man with a plan. Droving was a significant Highland trade and Archie knew his coos. Buying from the Marquis of Bute, he moved thousands of head of cattle at a time through Scotland's Lochs and Glens on through to the hills of Northumberland and to the markets in the south. He and his family worked closely with neighbouring clans, including his good friend Rob Roy MacGregor and in doing so amassed the fortune that led to Dunans Castle rising.
In tribute to the castle's droving roots we are proud and delighted to introduce a new addition to ScottishLaird Gifts,  Fletcher, The Highland Coo.
Fletcher, is 10 inches from head to tail and stands 8 inches high. He has a tam and scarf in the Dunans Rising tartan and every purchase helps restore the castle Archie built.
---