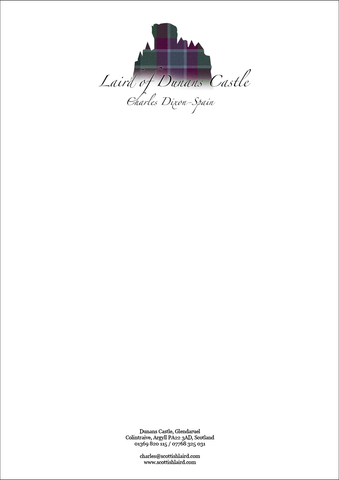 Personalised Letterhead
DELIVERY ADVICE
ScottishLaird supply this product directly and therefore delivery is usually in the times stated.
PRODUCT DESCRIPTION
100 super personalised Letterheads for our Lairds and Ladies, showing off your very own "Dunans Rising" tartan! These letterheads are A4 (297mm x 210mm), printed on paper with your title, your name, your details and Dunans Rising logo!
We take the hassle out of printing your letterheads by doing it for you (rather than downloading the free templates at the Lairds' and Ladies' website and commissioning your own print job).
The designs are exactly the same, but you can be assured of both the quality and the timeliness of delivery.
We will use your billing address for the stationery, unless you wish us to different details
If we have any queries we'll get back to you!
---